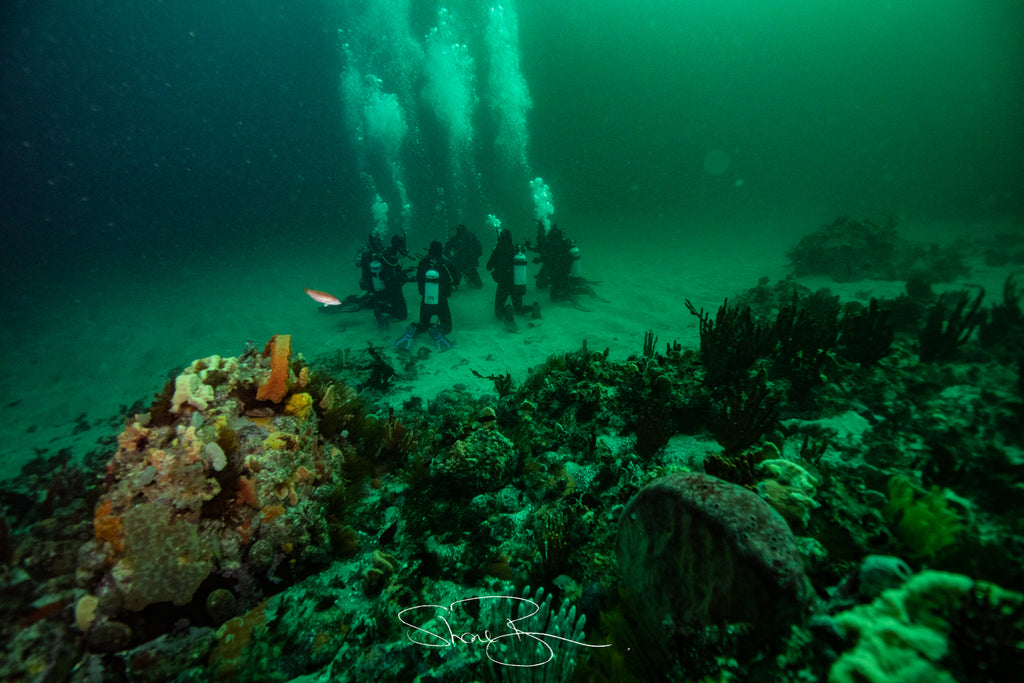 As a dive instructor, nothing makes me happier than seeing my students progress into divers who are confident in their own abilities in the water. This progression I usually see the most whilst teaching the PADI Advanced Open Water Course. 

Over the weekend, I had the distinct pleasure of yet again witnessing this progression with my students from Elizabeth College. 

As usual with every course, it starts with a little bit of prior learning and a few meetings at the school. With that all wrapped up, we were set to meet at the Go Dive Lodge on the Friday morning. Over the weekend we will complete 5 adventure dives.

Let's start with the first 3!
Adventure Dive 1 - Peak Performance Buoyancy
This dive was the dive that helped me the most when I too was progressing through the diving ranks. On this dive, we have fun! We swim through hoops, maneuver close to the sand, practice breathing control, fin kicking and visualisation. This dive sets the tone for all dives to come during the course. The hoops are usually everyone's favourite part, it can be quite a challenge. As you come up to the hoop, everything comes into play. Where are your gauges, are you too low, are you too high, do you breath out, do you breath in, what about my feet? It is a skill that teaches control and spacial awareness, plus it is loads of fun to do!

Adventure Dive 2 - Underwater Navigation
Get out your compass, you're going to need it! On this dive, we go over all things navigation. It all starts with a bit of compass practice on land, this really helps to ease the divers into using something that is not all that familiar for them. Compass's are a very easy thing to use, when you know how! Underwater, we start by laying a 30m line. Here we get to measure distances! We measure fin kick cycles and arm spans. All little bits of information that help our navigation! We then move onto reciprocal headings and a square pattern with the compass. The square pattern is usually where I find most divers can come a little unstuck. But not the guys from Elizabeth College, this is one of the few times I had every diver complete the skill absolutely perfectly! And finally, my favourite navigational technique, natural navigation. We learn to look around us, we look at the way the weeds move, we look at the sunlight peering through the surface, we look at the ripples in the sand and we look ahead of us for anything to lock a path onto. 
Adventure Dive 3 - Night Diving
Did you bring your torches? The night dive is the dive I find usually has everyone the most nervous, but it can also be the most rewarding. Even though we head out to a familiar dive site, it all changes at night! It starts with the entry, then the decent and then we're on! My students from Elizabeth College again were complete naturals! We went straight into our reciprocal compass heading, illuminating the compass and navigating out and back into the darkness. Now that is out of the way, lets go for a swim! We start to notice fish species we didn't see during the day. A Flounder swims right between us, Crabs walk sideways around us and we see Crayfish out and about at night! After a little swim, we gather together and turn our torches off for a minute. This is what everyone has been waiting for, sitting under the ocean in complete darkness, looking around and to their surprise feeling very comfortable in doing so. Our torches are then turned back on and we make our way in. As soon as we hit the surface, it begins! Talk of how amazing that was, always puts a huge smile on my face.

That's it for day 1, it's then time for lots of food and sleep, because tomorrow we start the boat dives!

Adventure Dive 4 - Deep Diving
I think for most, this is their favourite dive. A deep dive, a dive to 30 metres. A depth they have not gone to before! Let's do it. We load the boat, head out to our dive site. In this case, we were diving The Gardens in Port Arthur. We have our dive briefing on the boat, perhaps my most serious one of all. I speak of staying together, being attentive of their buoyancy and letting me know when getting lower on air. For those who don't know, we breath our air 4 times faster at 30 metres than we do on the surface. This is not something my divers have experienced yet and it is something to always be aware of. The dive site we are at is perfect for training, we drop in shallow (about 8m deep), we compose ourselves, wait till everyone is all good with equalising, buddy up and head down! On the way down, we do multiple checks to make sure everyone is all good. We start to get closer to the bottom and boy, the visibility is spectacular! There had to be close to 30m + visibility, what a day to be diving! As we land on the sand edge, we form a semi circle, we all give the okay signal and go straight into some demonstrations. We have a neoprene colour swatch with us, demonstrating the effect of pressure on the neoprene and also the colour loss at depth. Next, I have my little book, with individual questions for each of the students. The book is passed around for each to answer, which we will check at the surface and a laugh at together. It is now time to slowly make our way towards our safety stop, whilst enjoying the amazing scenery on the way up. Eventually we get the signal from the divers that we are getting lower on air and it is now time to perform the safety stop. Here the divers hang effortlessly at a depth of 5 metres for 3 minutes. Once everyone's computers have cleared, it's time to head to the surface. How perfect was that dive! I was so impressed with these guys on the weekend, they dived the plan perfectly we couldn't have had a better dive!

Adventure Dive 5 - Boat Dive
It is now our last dive for the course. We complete the Adventure Boat Dive, as this perfectly allows our divers to put everything they have learnt over the weekend into one final dive. We speak of all the skills we want to see whilst in the water and then we're in! Our last fun dive has us looking at multiple Crayfish as we dive a site called The Heads. We swim along with perfect buoyancy control, navigate naturally, use our torches under ledges and swim confidently around at depth. The PADI Advanced Open Water Course has once again progressed my divers abilities and their confidence whilst diving!

I want to say a major thank you to the students from Elizabeth College, you were absolutely a pleasure to teach. You listened and then demonstrated that you understood every skill we performed and it always makes me happy when I can see you are having fun along the way!

Another Advanced Open Water Course done and dusted, I can't wait to dive with you guys again later in the year!

Happy Diving, 

Aaron.

Photos courtesy of - Shane Breen Underwater Photos see his FACEBOOK and INSTRAGRAM for more amazing shots.