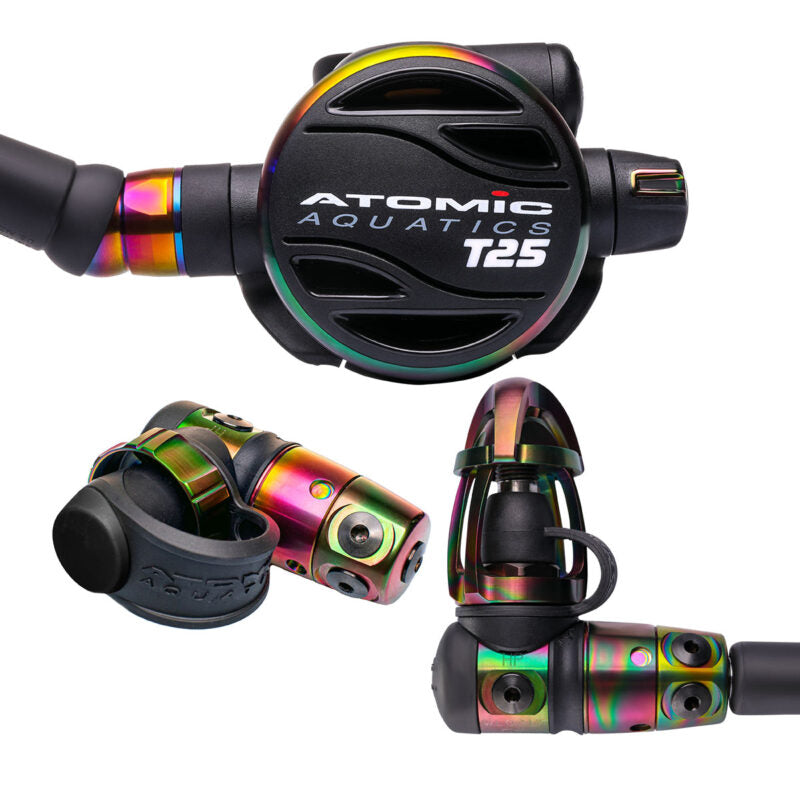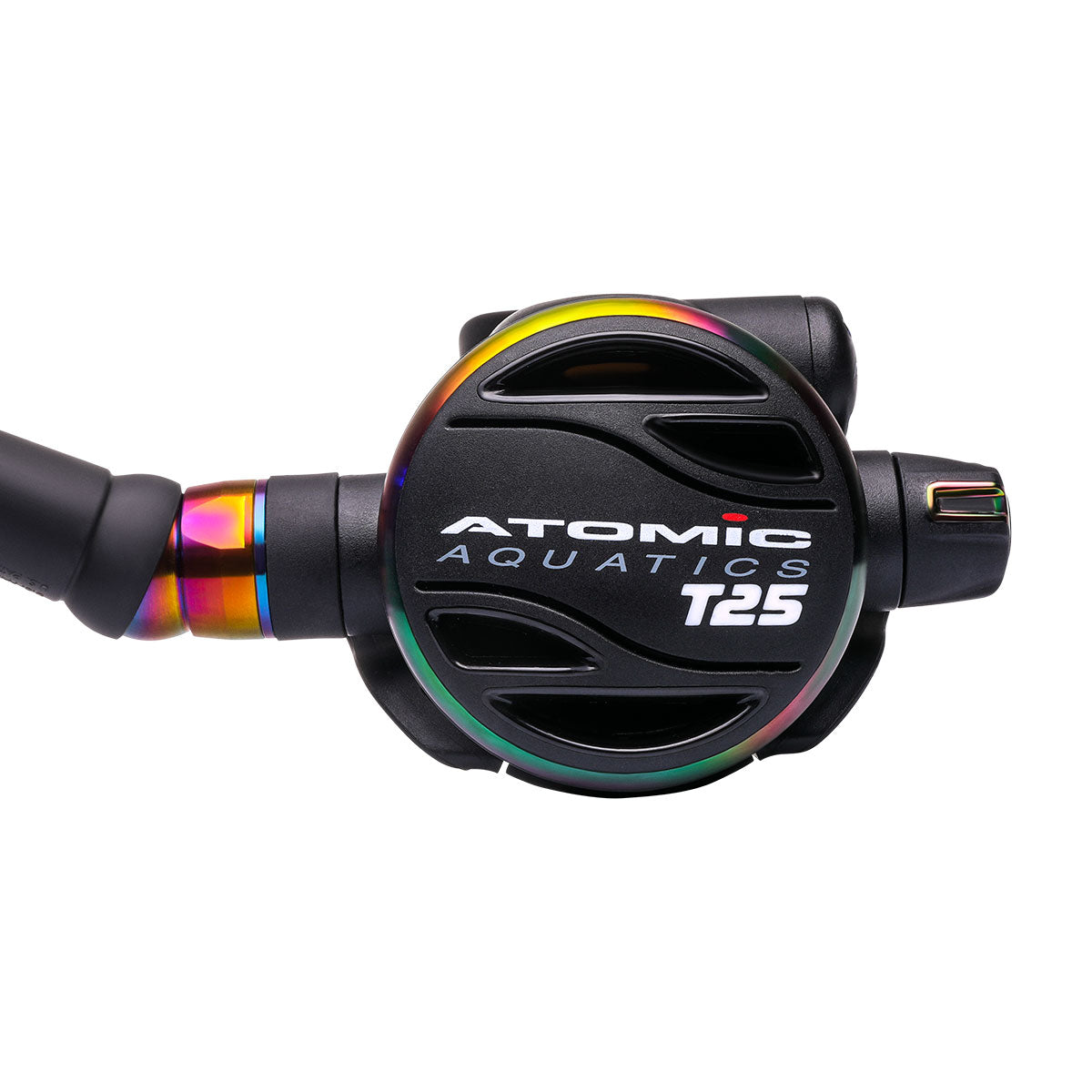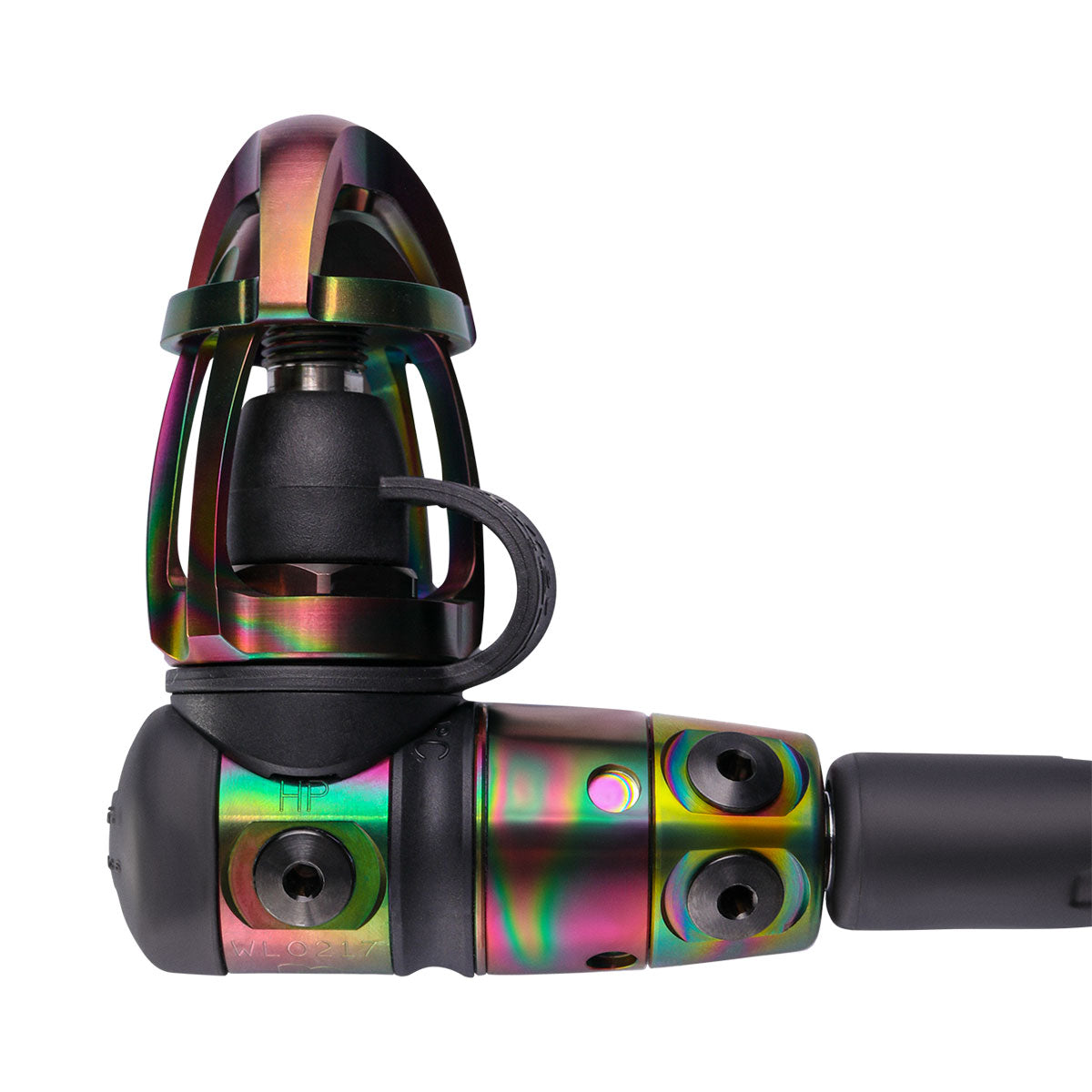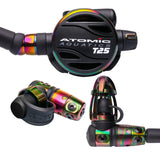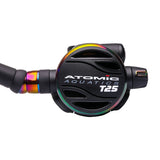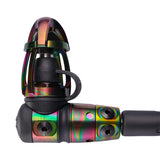 ATOMIC T20 LIMITED EDITION REGULATOR - YOKE
Regulators & Occys - Atomic
OUR LAST ONE IN STOCK! DON'T MISS OUT!

Incredibly tough and stunningly beautiful, our ultra-exclusive T25 Limited-Edition Anniversary Regulator celebrates 25 years of superlative design, engineering and performance. Representing decades of breakthroughs—and breaking the rules—the T25 is a highly-evolved version of the iconic T3 all-Titanium regulator. But it's designed using even more exotic processes, elevating it into "Diamond" status.
To start, we machined the T25 regulator from solid bars of Titanium Ti-6Al-4V alloy. After this initial phase, we plated it with a new proprietary diamond-like hardness coating (DLC), which, as a byproduct, produces a radiant, iridescent color sheen. For short, we dubbed it "Burnt Titanium" to reflect its stunningly beautiful, durable and unique finish.
The T25 Burnt Titanium finish is highly unique and no two regulators appear the same. Of course, it's not really burned, but the T25's coating does have a near Diamond-level super hardness that will perform in the water for years and years of use. However, while the "Burnt Titanium" coating is very hard and can resist normal scratching from diving, it can be damaged, so be sure to avoid impact or excessive rubbing with pool decks, boat decks or swim steps.


INCREDIBLY LIGHTWEIGHT
The LIGHTEST regulator in the world, combined weight of the Atomic T25 first & second stage is under 1.8 pounds (yoke version).
T25 FIRST STAGE FEATURES
Precision-machined from solid Titanium alloy billet.
Anniversary T25 engraving.
Limited-edition serial number.
Burnt titanium color finish.
Minimalist yoke design is optimized to use the least amount of material for the lightest weight possible.
Atomic exclusive balanced Jet Seat high-flow piston.
Freeze-protected and factory-sealed to prevent outside contamination from silt and sand.
Nitrox ready – approved for non-dedicated EAN use with mixtures up to 40%.
Ports: 2 HP fixed / 5 LP on swivel cap.
T25 SECOND STAGE FEATURES
Pneumatically-balanced poppet, high-flow case and lever design for easy breathing at all depths and tank pressures.
Burnt titanium color finish.
Patented Atomic AFC – Automatic Flow Control.
DLC coating, carbon nanostructure.
Soft overmolded Rapid Adjustment Knob for manual detuning in special situations such as surf entries or octo use.
Patented Atomic Titanium Seat Saving Dynamic Orifice maintains crisp like-new factory tuning and prevents damage during storage.
Hose features patented all-Titanium Atomic Comfort Swivel with Black PVD coating.
Dual material second stage cover enables entire front to be used for purge.
Elliptical exhaust valve dramatically reduces exhalation effort at depth.
Dual silicone comfort fit mouthpiece with tear-resistant bite tabs – both comfortable and durable.
PVD coated burnt titanium-accent front cover ring.
Premium T25 regulator travel bag.
DIVE UP TO 3 YEARS OR 300 DIVES WITHOUT REQUIRED SERVICING
Divers deeply admire many exclusive features of Atomic second stages that make diving easier. One of the most acclaimed is the Atomic Comfort Swivel which allows 30° rotational movement without hose binding or kinking. The T25 Comfort Swivel is all-Titanium with black PVD coating for the highest level of corrosion-resistance you can take in the ocean. Once you dive more comfortably with it, you'll wonder why no one else ever thought of it.
(US Patent No. 7,188,869)