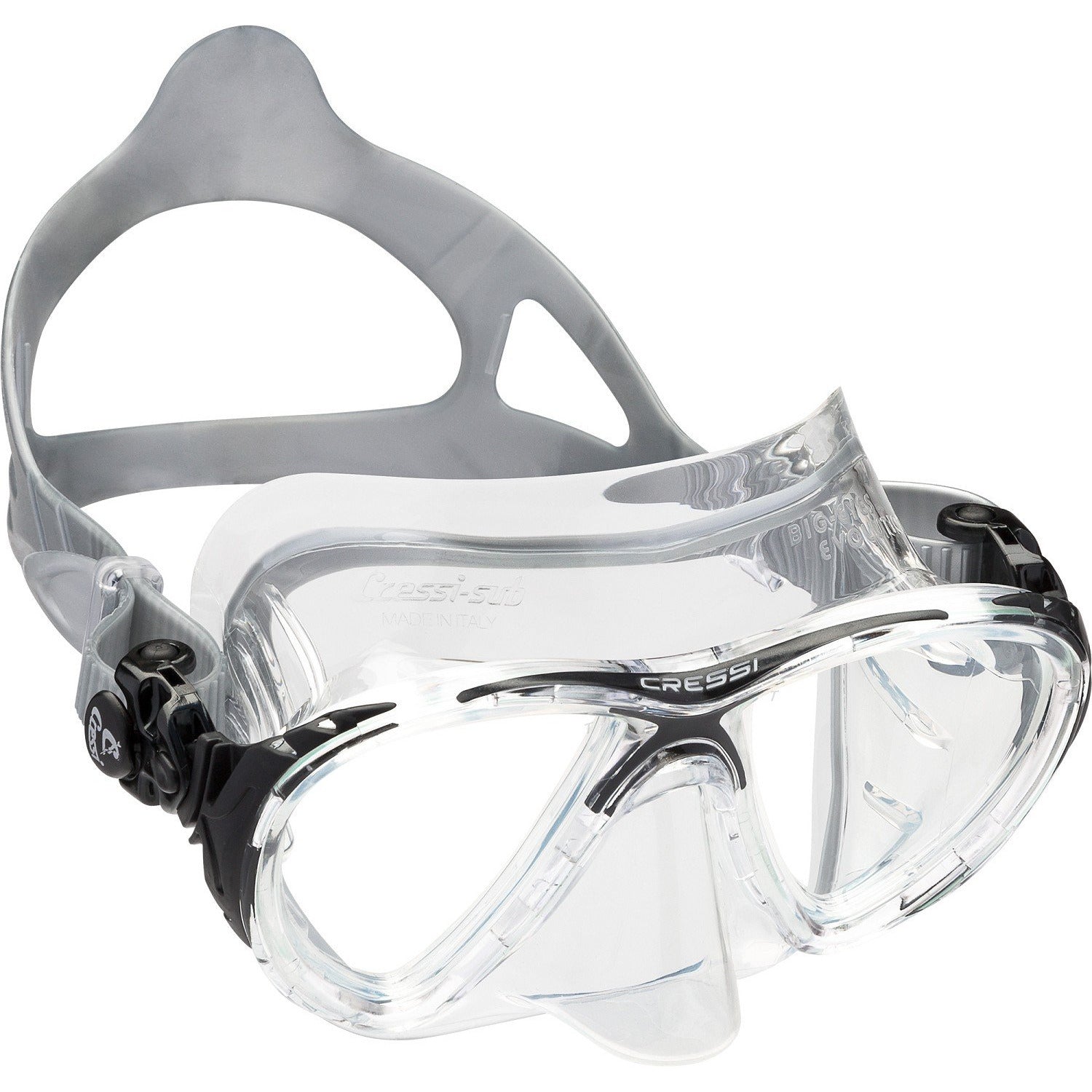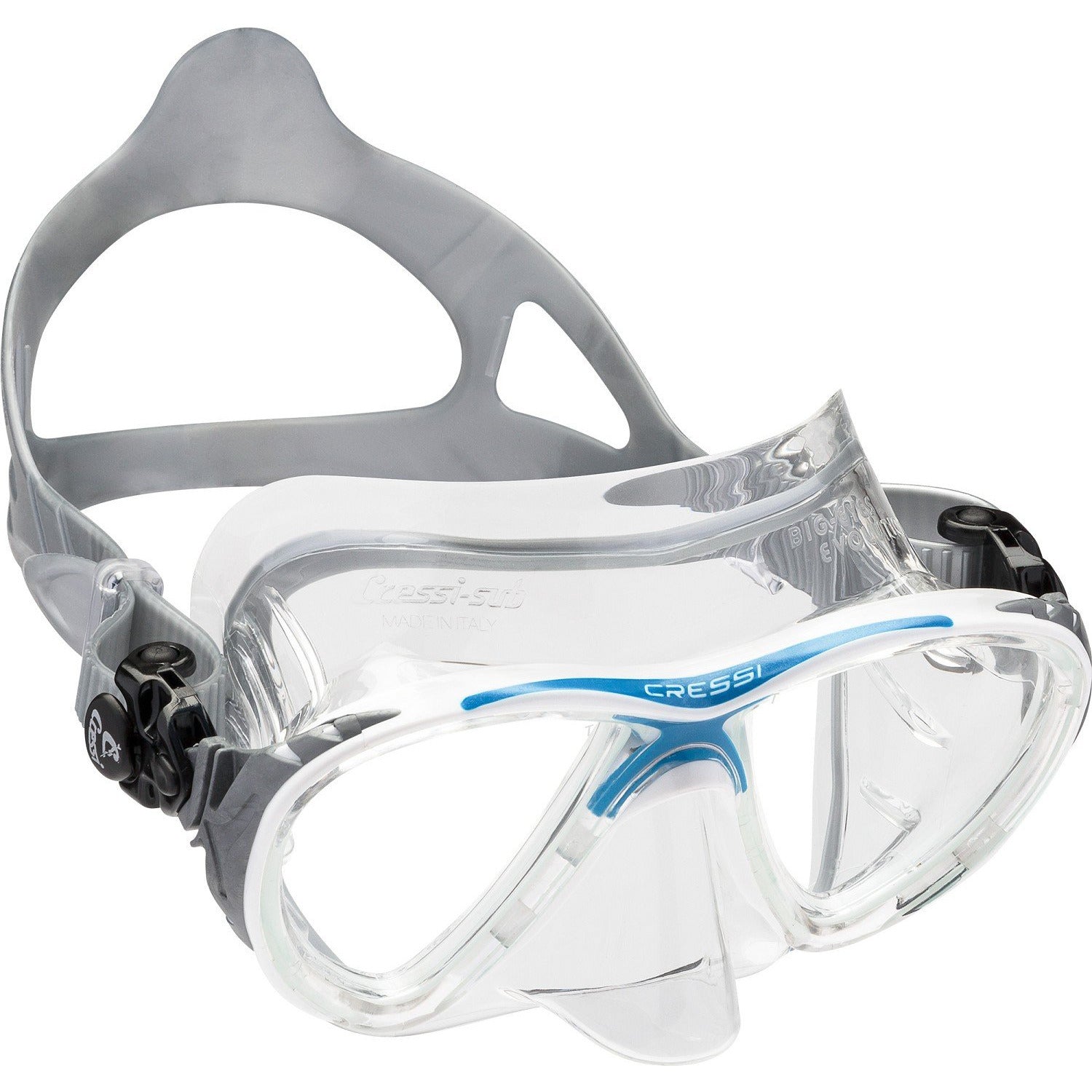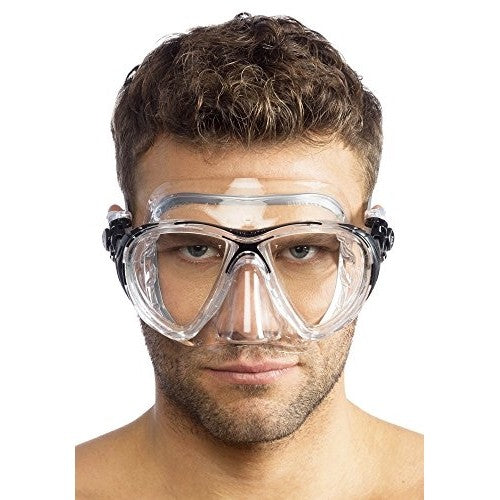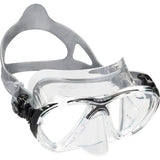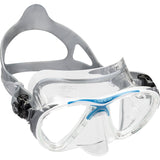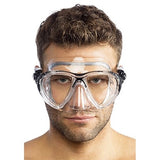 CRESSI BIG EYES EVOLUTION CRYSTAL MASK
Mask - Cressi
Cressi Big Eyes Evolution Crystal Mask

It will be difficult to overcome the new EVO by Cressi, a design that improves the already excellent visibility in all directions of the MATRIX mask and reduces weight to 160 g and internal volume to 115 cm3, parameters typical of much smaller masks.
It's identical regarding the design to the EVO BIG EYES version, the BIG EYE EVOLUTION CRYSTAL uses exclusively the new silicone Crystal of Cressi, which has the following advantages:
Absolute transparence

 

that provides a great interior lightning, fabulous aesthetics both as product and on the diver's face (especially in underwater photography).
Reduced tendency to yellowing

 

over time, 90% less than other types of silicone due to its unique chemical composition.
Silicone free

 

of silicon chloride, a component that causes the traditional and cumbersome greasing of the crystals after the assembly of the mask and that must be removed to get a correct use of the mask. Crystal silicone does not grease the mask mask and therefore has no effect on the fogging tendency of the mask.
The 2nd silicone mixture used for the inner flap  (shore 60) and the fastening strip differs from the standard model with an attractive silver tone
 
Evo skirt with two silicone of different density to obtain an especially dynamic perfect stability over the face with a great comfort and adaptation capacity.
The internal part of rigid silicone gives solidity and stability to the mask.
The exterior profiles of a very, very soft reinforced silicone increasing thicknesses in key areas, especially the sides (critical area using very flexible compositions) and the contact area with the frame, provide an unparalleled comfort.
The exterior part of the skirt in contact with the face and the part that recovers the nose have decreasing thickness that improves adaptation and maintains the comfort during long usage hours.

Buckles, completely pivoting in all directions and connected to the frame by means of a flexible and unbreakable elastomer. The tension of the strip acts directly on the mount, maintaining the stability of the mask and bringing the glass closer to the eyes.
 
Exceptionally reduced frame structure that allows a great approach to the glasses without contact problems with the frame. So, the intern volume is reduced to the minimum and all frame vision is eliminated from the inside.
15º inclined and extended glasses over the cheeks ("Big Eyes" system) increase the inferior visibility more than 30% regarding the one of a traditional mask, while the superior and side visibility are increased to the limit that allows the frame's thickness: total vision + 3% in superior visibility and total vision + 5% in side visibility.

Particularly studied structural rigidity of the central bridge to avoid losing the plane of the glasses due to an excess of tension of the strap that could cause optical distortions.