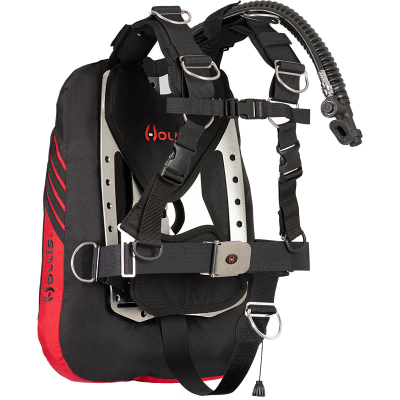 HOLLIS ELITE ST SYSTEM
BCD - Hollis
The Hollis Single tank (ST) Travel System, is a light weight but full featured backplate, wing and harness system.  Utilising the popular Elite harness which is super comfortable with full adjustment for Torso length plus shoulder clips to allow for easy donning and doffing.
The all new 2.0 Aluminium Back plate has improved ergonomics and fit over its predecessor and comes in at only 0.68 KG of weight.  The all new ST Wing offers 35 pounds (16KG) of lift and the design features a 360 degree tapered profile, to increase the lift towards the hips, promoting better horizontal trim in dive position whilst still offering perfect surface flotation.
The wing is constructed with an internal bladder of 420 denier nylon and an outer of rugged abrasion resistant 1680 Cordura. The system comes standard with a unique 2 part Back and Lumbar support pad for increased diver comfort.
Technical Features
ST 35 Wing uses a 360 degree tapered design for improved diver trim
ST 35 is built with an inner bladder and a rugged abrasion resistant external shell of 1680 Cordura allowing for a 5 Year warranty
Elite 2 Harness is feature rich with 6 x S/S D Rings, adjustable quick release shoulder straps and a sternum strap. Making for a super comfortable harness that is perfect for both Recreational and Technical divers.
All new 2.0 Aluminium Backplate is super light (0.68KG) and also has improved ergonomics and fit over its predecessor.
Back and Lumbar support come standard to improved Diver comfort
Optional quick release weight system that is easily added to the harness and backplate (sold separately)