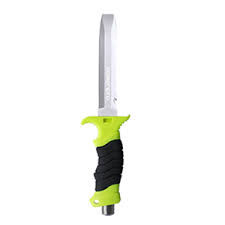 Ocean Pro Shuka Knife
Knife - Ocean Pro
SHUKA ABALONE TOOL

Everything you'll ever need in an Abalone tool, the Shuka is a reliable dive companion.
- 420 grade stainless steel.
- Blunt tip for optimum leverage.
- 14cm blade with hammer end.
- Serrated blade with line cutter.
- "Sure-lock" sheath.
Great knife
great little knife, very happy
Dubious locking mechanism to hold the knife in the sheath
Upon purchase my thoughts were of concern about how secure the knife would be in the sheath. First dive with the new knife I managed to lose it. I can't say for certain that I properly stowed the knife correctly back in the sheath to ensure the locking mechanism was properly engaged but I recall there was much seaweed brushing about my legs where the knife was strapped. By some miracle (needle in a haystack scenario because the ground was rocky and covered in seaweed) I managed to find the knife when diving the next day. Future use I'll be sure the knife is properly stowed and hope I don't lose it.