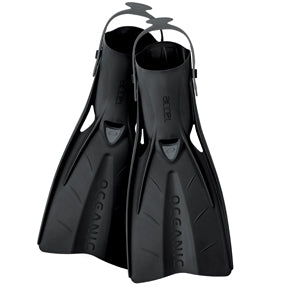 Oceanic Accel Fin
Fins - Oceanic
Accel Fins

If you favour power over frills, you'll love the Accel. Compact and responsive, its clean lines and efficient shape make it an excellent all-around fin.
Unique, high-stretch heel straps are effortless to slip on and off and dramatically reduce the bulk and drag associated with typical open heel fins. The angled, compact blade has excellent water flow characteristics and also allows divers to swim efficiently with multiple kicking styles, from scissor to frog to sculling. The blade's centre channel, along with pronounced side rails, also helps minimise "side spill," directing water behind the diver for maximum thrust.
Unique heel strap design is effortless to slip on and off
Minimise inventory & customise your Accel fins
Design offers excellent water flow characteristics
Less than 3 lbs per pair
Maximum length (size XL–XXL) only 21 inches
Accel comes in 2 colors: black or grey. Black comes standard with a grey color kit. Grey comes standard with a black color kit.