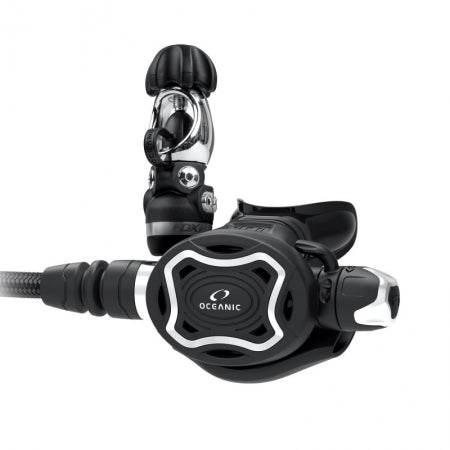 OCEANIC ZEO FDXI REGULATOR - YOKE - DISPLAY MODEL SALE
Regulators & Occys - Oceanic
OCEANIC ZEO FDXI REGULATOR. 
Performance at its peak. 

The pneumatically-balanced ZEO is an engineering marvel of precision, durability and comfort. Its durable chrome-plated marine brass metal valve delivers a phenomenal breathing experience, improves cold-water performance and helps recirculate moisture from exhalation to prevent dry mouth. The breathing adjustment gives the diver a wide range of control to precisely set airflow throughout the dive.
The ZEO comes standard with an in-line hose swivel, inhalation effort control, dynamic adjustment technology dive/ pre-dive switch and a super comfortable orthodontic mouth piece featuring an inline ball swivel on the hose connection to eliminate the binding that can cause jaw fatigue.
ZEO
- Valve Type Demand
- Adjustment(s) A.V.S. (pre-dive) & Flow Adjust
- Balancing System Pneumatic
- Mouthpiece Orthodontic with Tabs
- Nitrox Compatibility Standard to 40%
- Weight (without hose) 204g
- Dimensions (Front Profile) 5.8cm x 7.62cm (oval shape)
- Work of Breathing 0.86 Joules
- Warranty LIMITED LIFETIME
- Satisfaction Guarantee 30 Days

FDX-i (FIRST STAGE)
- Valve Type Balanced Diaphragm
- Primary Material Forged Marine Brass
- Pressure Ports LP (4), HP (2)
- Nitrox Compatibility Standard to 40%
- Sealed Valve Design
- Environmental Protection
- Warranty LIMITED LIFETIME Satisfaction Guarantee 30 Days

NOTE: Oceanic FDXI ZEO Yoke is a display model and has no box. Clearance product.