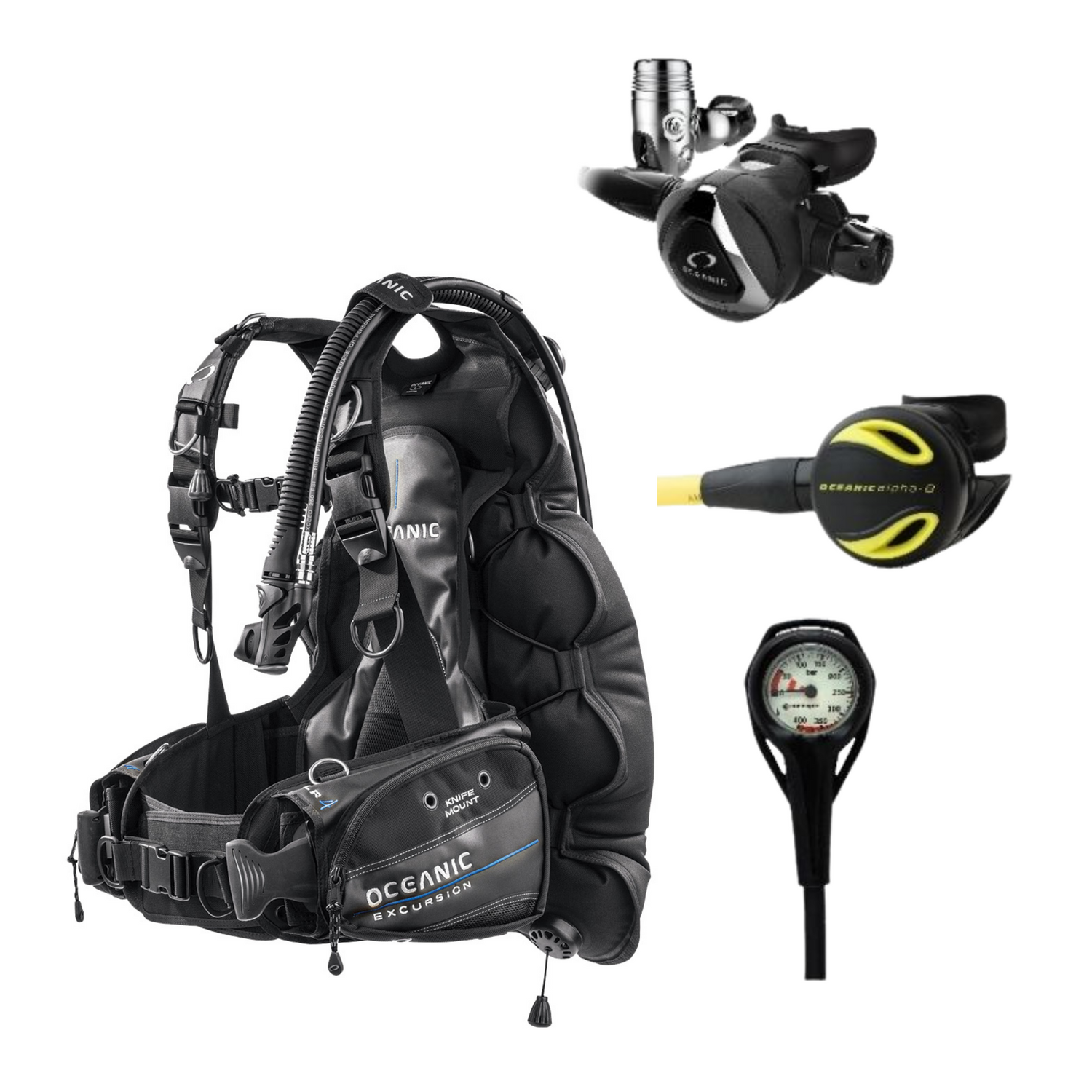 Oceanic Instructors Choice Package - Excursion BCD
Scuba Package - Oceanic
The Oceanic Instructors Choice Package - Excursion Includes:
Oceanic Excursion BCD
Oceanic Delta 5 EDX Regulator
Oceanic Alpha 8 Occy
Oceanpro SPG Complete
OCEANIC EXCURSION BCD
The Excursion is for the serious adventurer. Our extremely comfortable and stable rear inflation BC is ready for any adventure that you are.
Rear inflation bladder provides up to 58 lbs lift
QLR4 Integrated Weight System
20 lbs plus dual 5 lbs rear Generous zippered utility pockets with knife mounts
Pre-bent welded stainless steel D-rings
Patented adjustable depth compensating cummerbund
Streamlined harness with reinforced contoured shoulders
Padded backpack with lumbar support
OCEANIC DELTA 5 EDX REGULATORS
The Delta 5 is the next step in a long line of remarkably reliable, durable and smoothly breathing regulators to carry that name.
Pneumatically balanced all-metal valve.
Dive/pre-dive switch & patented dynamic airflow adjustment control.
Mechanical Purge button for consistent air-flow pressure on during purge.
Nitrox Compatibility – Standard to 40%.
Balanced diaphragm first stage eDX is environmentally sealed and cold-water ready.
Heat Exchanger for Improved cold-water performance.
Ergonomic exhalation venting.
Dimensions (Front Profile) – 2.5 inch diameter (circular).
Dual-material orthodontic mouthpiece with bite tabs.
Optional Universal Swivel Adapter – the optional Universal Swivel comes separate but can be easily installed with an adjustable torque wrench and 5 min of free time. Instructions are provided.
OCEANIC ALPHA 8 OCCY
Simple, dependable and economical. What else would you expect from a design as refined and perfected as the Alpha?
Designed to perform to U.S. Navy's Class A standards at 198 ft
Demand Valve
Balancing System
Integrated Purge Button
Orthodontic Mouthpiece
Nitrox Compatibility Standard to 40%
Weight (without hose) 6 ounces
Dimensions (front profile) 2.9 inches
Minimum Cracking Effort 1.1 CIW
Factory Set Inhalation Effort 1.2—1.4 CIW
OCEANPRO SPG COMPLETE
Slimline easy to use pressure gauge. A convenient yet compact pressure gauge is an absolute must when diving.
Easy to read measurements in BAR
Low profile boot for protection
Includes High pressure hose
Excellent
Go dive Hobart has and amazing staff, with the knowledge and experience to help any one from a beginner level all the way through to advanced divers. The staff is very welcoming, friendly and provide a service that is second to none. Thank you very much go dive Hobart.
Hi Seth,
Thank you for your review! We're so glad you have enjoyed your experience with our team and really hope you love your new Scuba Package!
- Go Dive Tasmania