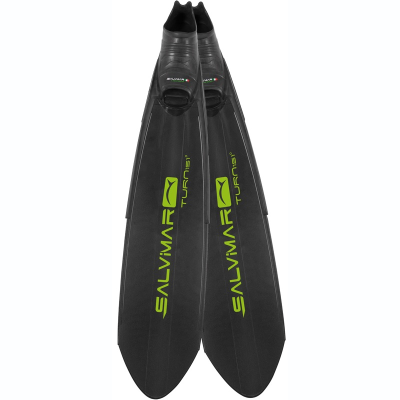 SALVIMAR TURN 151 FIN
Fins - Salvimar
The Salvimar range has been developed to offer the best product for competitive and recreational Freedivers. A great freediving fin needs to be efficient, comfortable and responsive to the divers' movements this all starts with the foot pocket. The Turn 151's foot pocket has a unique set of features that make it ideally suited to long days of exploring and training both out in open water and in the pool working on technique.
TECHNICAL FEATURES:
Soft, responsive blade to maximize thrust with minimal energy
A 29° built in angle reduces drag during the glide phase and keeps the blade in the appropriate angle during a relaxed kick stroke
Polypropylene blade is fine tuned to the optimal stiffness for efficient energy transfer
The ability to upgrade to Fiberglass or Carbon blades as your skill level increases.