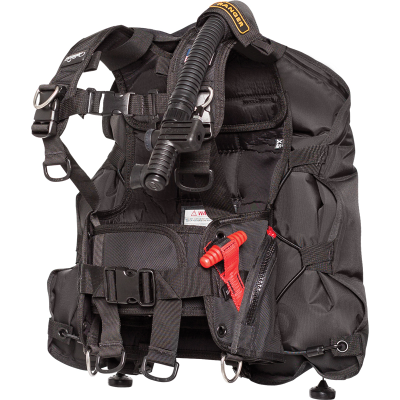 ZEAGLE RANGER BCD
BCD - Zeagle
The industry standard for rugged design, versatility, and comfort.  If you want a tough recreational buoyancy system, and also want it to adapt and change to meet your different diving needs, the Ranger is a system you won't outgrow. It's been at the "top of the charts" for many years.
HEAVY DUTY
The Ranger was the first BC to combine high quality heavy duty construction, weight integration and rear flotation. Its introduction created a new category of buoyancy systems and made it the most imitated BC in history. But it's incredible versatility is what keeps knowledgeable divers recommending it year after year. Our modular construction allows the Ranger to transition between tropical travel diving, rugged cold water diving in wet or dry suits, single or twin cylinders, and even technical diving (with optional bladder assemblies having up to dual 85 lb lift redundant bladder assemblies and easily mounted backplates).

BALLISTIC NYLON
Constructed of heavily reinforced 1050 denier ballistic nylon, the Ranger is compatible with a variety of options and accessories, including bladders, pockets, hard backplates, and custom gear attachment components.


TECHNICAL FEATURES: 
Heavily reinforced 1680 Denier Ballistic Nylon construction
Two zippered utility pockets
Adjustable and depth compensation cummerbund
4 stainless steel angled D-rings on shoulders (2 adjustable), and 2 on vest
Adjustable sternum strap
11″ spaced grommets for adding twin cylinders**