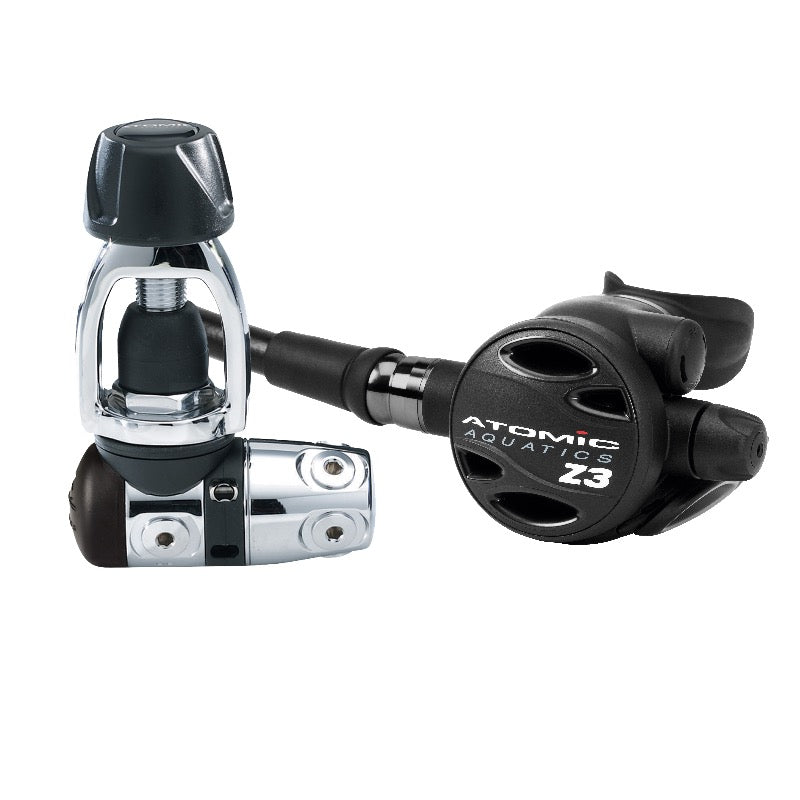 ZEAGLE Z3 REGULATOR - YOKE
Regulators & Occys - Zeagle
Designed as a value for money regulator in the Atomic range, the Z3 is recognised by many as the best bang for buck regulator on the market. The Z3 first stage is built from zirconium plated brass which gives excellent corrosion resistance. Due to this corrosive resistance and the hardwearing material, Atomic offer the industry's leading recommended service interval of 2 Years or 200 Dives, this regulator is built to go year after year without a drop in performance.
The lifetime warranty is also unique in that it is not reliant on service and is transferrable to the next owner. Internally the Z3 utilises a high flow piston which efficiently regulates the tank pressure exactly dive after dive. The low-pressure ports are housed on the main body which makes for a compact streamlined first stage. The Z3 second stage houses a fully balanced valve and lever that has a super smooth air delivery regardless of depth, the same high-quality valve body that is found in the world leading T3 regulator.
The second stage has a fantastic 360-degree swivel which ensures the regulator is always in the right place, reducing jaw fatigue and making your dive more comfortable for longer.
Like all Atomic second stages it also features the patented "AFC" Automatic Flow Control that eliminates the need for an external pre-dive switch and automatically adjusts with depth to ensure your regulator doesn't free flow.
Technical Features
First stage materials are chrome plated Brass and 316 Stainless Steel
Atomic Jet Seat high-flow piston first stage
Optional factory-sealed first stage to prevent outside contamination such as silt and sand
Nitrox ready for mixtures up to 40%
First stage ports available in 2 HP fixed / 7 LP on fixed cap